How Will I Gain Practical Experience?
Our Professional Dog Grooming Diploma and Dog Grooming Bundle courses include practical tasks for students to complete from home. These tasks will give you the opportunity to gain vital hands-on experience with a variety of dog breed and coat types. They're not only designed to develop your technical skills, but will also prepare you in setting up your dog grooming business after graduating.
As with all of our courses, you have the freedom to complete these tasks from the comfort of your own home and at your own pace. There's no placement required and as these tasks are optional and not formally graded, so there's no obligation to purchase tools and equipment in order to graduate (if you prefer not to.)
What Will I Need?
Willing models! Most of our students start out by practicing on their own or friends/families dogs. As you progress through the modules, you'll want to expand the breeds and coat types you practice on to include curly coats such as a Poodle and Terrier breeds.
There are lots of other ways to find models for your practical tasks;
Advertise in local social media groups (such as buy, sell swap or dog park groups) requesting free models.
Use free notice boards to advertise your need for canine models.
Approach a local rescue centre to offer your services for free
It's important for us to mention here that when grooming on a voluntary basis you won't require insurance, but as soon as you start charging for your services you will need insurance.
Check out dog grooming graduate Sandi's story and see how she found willing modles!. Sandi put a message on her local dog parks social media page and was inundated with models! The great thing about starting out like this, is that like Sandi, once your confidence builds and you're ready to start charging you'll already have a growing client list.
What About Tools and Equipment?
You'll find that the tasks you're set will go hand in hand with what you'll learn in each module. You won't require any tools or equipment for your first 3 tasks. Tasks 1-3 focus on you and your future business plans.
Some examples of activites you'll complete in modules 1-3 are;
You'll be encouraged to research other dog groomers in your area and familiarise yourself with equipment and tool suppliers.
You'll give some thought to your dog grooming business and what sort of services you'll offer.
You'll carry our market research in your local area. How many businesses offer mobile dog grooming, mobile dog wash services or dog grooming at home?
You'll think about what made them stand out to you. What services do they offer? What do they charge? How do you make a booking? How do you know they are reputable?
Module 4 will be when you'll get to practice some hands-on grooming techniques. By this time, if you choose to complete the practical tasks, you'll need to begin purchasing basic dog grooming tools.
Will I Receive a Grooming Kit?
A grooming kit isn't supplied with our courses as we find that students prefer our more affordable course fees and don't want to pay for equipment that they may not need or like. There's a wide variety of different brands and types of tools and one kit doesn't fit all. You'll have the opportunity to ask for recommendations from other students about brands of tools and where to purchase if you join our student Facebook community. One of the most popular questions asked is 'what are the best dog grooming clippers?' You'll see by the variety of answers, why we say that one dog grooming kit doesn't fit all!
A basic grooming kit would include;
A slicker brush
wide and fine tooth comb
An undercoat rake
A dematting tool
Dog shampoo & conditioner
Hairdryer
Pet clippers
Don't Purchase Anything Before Enrolling!
We don't recommend purchasing anything prior to enrolling. Module 1 in our Professional Dog Grooming Diploma covers in detail the tools and equipment a dog groomer requires. It includes important information that you'll want to learn prior to investing in any tools or equipment. During module 1, you'll have the opportunity to watch our video series 'At Home With Lisa'. In these videos, Lisa shows you around her beautiful home grooming salon and introduces you to all the tools and equipment that she uses. You'll also find Lisa is a member of our student Facebook group and always willing to help answer questions or give advice.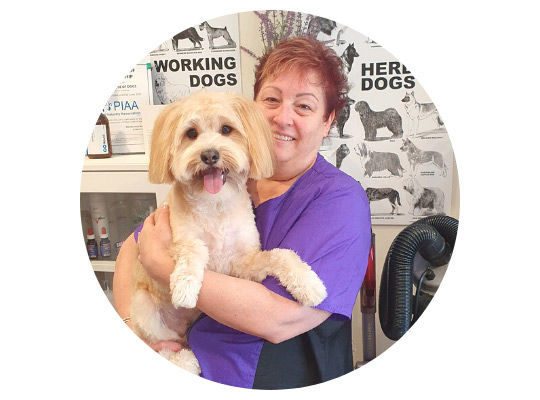 My business is called Lisa's House of Dogs

"When you get a scruffy matted dog in and you finish grooming them and they look beautiful and happy, I think that's a really rewarding feeling "
How Does It Work?
Whilst it might seem like a daunting exercise to find models and begin practicing your skills, it's an important step worth taking time and consideration on. Some (if not all) of the models you practice on could be your first paying clients in the future. Even though you won't be charging, it's still important to provide a professional experience which will entice your volunteers to return to you once your business is set up.
Be sure to take before and after photos!
These will likely be your first ever grooms and those images will be a treasured memory to look back on in the future.
Here are some examples of activities you'll complete in modules 4-9;
Carry out an initial health check on your model.
Bath and groom a dog that requires no trimming.
Practice your scissor skills using knitted pompoms.
Bath and stretch dry/ Bath and fluff dry a suitable dog.
Bath and trim a suitable dog into a classic spaniel cut.
Groom a curly coated dog such as a Poodle or Bichon Frise.
Groom a Terrier or directly related cross breed.
Modules 10-12 in the Professional Dog Grooming Diploma are dedicated to helping you set up and build your business. These tasks are designed to prepare you to launch your business after graduating. You'll be guided on how to create your business plan using the course template and then think about how you'll advertise and market your business. You'll also begin making important decisions such as the prices you'll charge and your service definition.
Unlike many other dog grooming courses, Pet Courses creates confidence in our students that they never knew they had. Upon graduation, our goal is for you to have gained the skills, knowledge and confidence to become a professional dog groomer and start your own successful and rewarding business.
Ready to get started? Become a professional dog groomer in under a year by
enrolling with Pet Courses today!
Join Our Pet Courses Community
Learning online can seem daunting, but by becoming a member of our student Facebook group you'll become part of a social community of animal lovers. Ask questions about the best pet grooming clippers or check that you're using the right blade length, our student group is a fantastic resource and safe space for you to share your learning journey.
You'll also find your course mentor in this group, who often shares video tutorials of her own furry clients. You're sure to be inspired by all the regular posts and pictures from our incredible students.