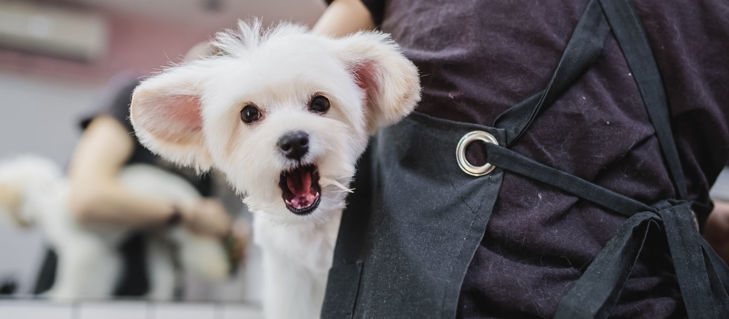 What No One Will Tell You, But You Need To Hear About Being A Dog Groomer
Meet Leanne Rolfe
Owner Forshore Grooming
Join Leanne Rolfe as she shares her honest experience of becoming a dog groomer. From the highs of being fully booked and earning far more than she ever imagined, to the lows of working long hours and coping with the physical toll the role takes on her body.
Read on for Leanne's 'no holds barred' experience as a professional dog groomer.
So Leanne, what interested you in becoming a dog groomer in the first place?
I had been clipping my own Poodles (and friends) for years as well as show horses and always received compliments when I was out walking my Poodle. I classed myself back then as a groom oholic! When Covid hit in early 2020, I was forced to stay home and take a look at my life. It was then that I realised I wanted to study to become a professional dog groomer.
How long did it take you until you started your business?
I enrolled in my Dog Grooming Diploma back in March 2020 and submitted my first assessment in the April. I joined the course Facebook group where I managed to connect with a lady that had graduated and opened her own salon near where I live. She invited me to visit her salon which was such a great learning experience for me. She had so much knowledge to share and I got to see her fabulous salon which was really inspiring. I worked really hard and graduated in May 2020 and then opened my salon, Foreshore Grooming.
Tell us about some of the struggles you've experienced since opening your salon?
The job is a lot more physically demanding than I ever imagined. I stand all day long and have constant muscle soreness so need to visit a physio weekly. I also have lots of cuts, bites and scratches all over me. I work really long hours and rarely get to take a day off, especially over the weekends. I find clients to be really demanding, they don't care how many hours I've worked a long as their dog gets groomed. It's also quite lonely for me at times as I work alone in my salon.
But there are positives to the job, right?
My clients are a delight and most are now regular returning customers. I tend to do about seven to eight drops per day and I love them all. I earn well over what I expected which is great and my Google rating online is 4.5 stars which is really rewarding. My facebook page is full of positive comments and recommendations with a 5 out of 5 rating. The fact that people take the time to leave these positive reviews is really rewarding and encouraging. I've now taken on a work experience student for one half day per week and am continuing to learn every day.
Course complete, experience gained, never stop learning, never stop listening, never stop researching and never give up on a life long dream.

Leanne Rolfe, Foreshore Grooming

Are you inspired by Leanne's story? Become a professional dog groomer in under a year by
enrolling with Pet Courses today!
Complete the form to get your free course guide
By submitting this enquiry, I agree to receiving emails from Pet Courses regarding courses that may be of interest to me and I accept the privacy policy. I can unsubscribe at any time.