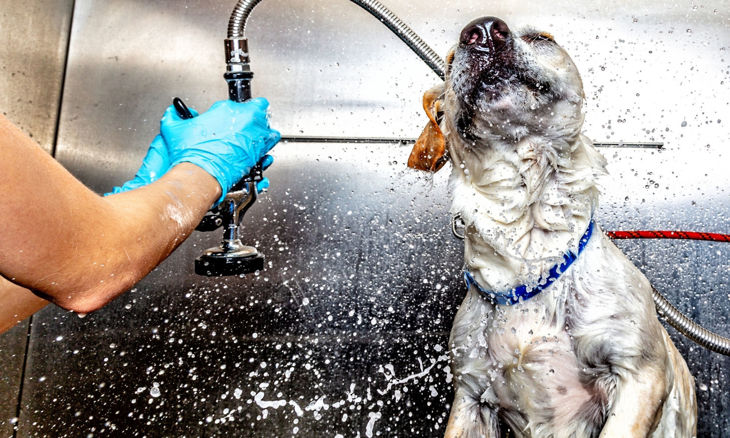 Professional Dog Grooming Diploma
Professional Dog Grooming Diploma.
100% online, self paced learning.
Approx. 6 months (part time)
Top-Rated Dog Grooming Course
Are you a dog lover who dreams of a career as a professional dog groomer? This top-rated dog grooming course has been specifically designed by our team of expert dog groomers to take you from complete beginner to professional dog groomer, all from the comfort of your own home. In just a few short months, you could be joining this thriving industry and launching your own successful dog grooming business.
As one of the most comprehensive online dog grooming courses, you'll learn how to safely and expertly groom dogs of all breed and coat types. Completing digestible interactive lessons, video tutorials and assessments, you'll learn everything from bathing, clipping and scissoring to breed specific styling.
This dog grooming course includes two bonus modules dedicated to setting up and marketing your business, including downloadable resources and templates. It's fair to say that we leave no stone unturned in this online dog grooming course.
If you're looking for some inspiration, check out our Student Stories, including how Jodi converted her garage into a Balinese style grooming space!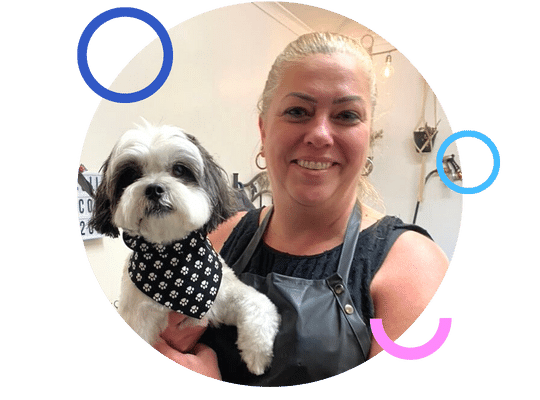 I love dogs and always wanted to be a groomer!

"I started out by grooming friends and families dogs and now have my own beautiful grooming salon at home."
Topics
This course includes 12 interactive modules, carefully designed to teach you how to become a confident, professional dog groomer.
Career options - mobile dog grooming, working from home, salons and franchising
Combs and brushes
Shedding aids
Clippers, blades and guard combs
Nails and teeth
Shampoos, conditioners and deodorants
Grooming tables
Hydrobaths and bathing equipment
The ANKC breed groups
Dog training - the alpha theory and positive dog training
Canine communication and calming signals
Dealing with an aggressive or fearful dog
Canine body language
Essential canine first aid
Canine anatomy
Handling fleas, ticks, mites and ringworm
Managing roundworm, tapeworm and heartworm
Important canine disease awareness
Bacterial and viral infections
Skin disorders
Essential health check
A visual assessment
Checking for pain
Skin and coat inspection
Eyes and ears
Checking dogs teeth
Nail maintenance
Prepare corded, double, silky, smooth, wire and wool coats for the bath
Hygiene and care procedures
Nail clipping
Teeth cleaning
Pad trimming
Ear plucking and cleansing
Owner expectations and needs
Styling to match the breed
Coat type and behaviour
Accentuate the dogs natural look
Understanding dog shape
Styling mixed breed dogs
Drying methods - blasting, stretch, fluff and smooth drying techniques
Styling spherical head shapes such as the Bichon Frise, Dandie Dinmont, Shih Tzu and West Highland Terrier
Eyebrows and beards
Long and short legged Terriers
Topknots
Scissoring skills and safety
Styling with feathering, stretch drying and fluff drying
Tail shape
Clipping and when to clip
Grooming puppies
Hand stripping and plucking
Carding
Creating the style - blending, feet, legs, body, ears, head, muzzle and throat
Elaborate styling
Fluff drying
The Poodle pet clip
Styling poodle cross breeds - Cavoodles, Groodles
Grooming the short haired Terrier
Airedale
Australian
Silky Australian
Bedlington
Border
Cairn
Dandie Dinmont
Irish
Kerry Blue
Norfolk and Norwich
Parsons Russell
Scottish
Soft-coated Wheaten
West Highland
Yorkshire
Schnauzer
Drop coat breeds
Natural coat toy breeds
Retrievers medium to long haired
Styling setters and spaniels
Wirehaired breeds
Grooming long and thick coats
Hound grooming
Telephone skills
Converting customers
Communication ABC's
How to create a customer base
Dealing with difficult customers
Choosing the right business
Customer contracts
Appointment cards
The importance of diary management
Personal software packages
Setting up your finances
Setting prices, taking payment and accounting
Health and safety
Insurance cover
Creating your customer experience
Choosing your business name
Creating your business plan
Carry out market research
Online marketing - social media, websites and blogging
Service related marketing
Professional development
Equipment checklist
Blade size chart
Printable five freedoms chart
Printable canine disease reference chart
Dog health assessment template
Business plan template
Income projection template
Course Mentor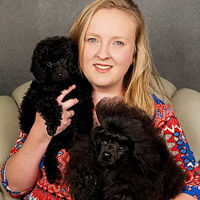 Hannah Grice is the owner and head groomer of her own boutique grooming business, The Dog House, which she initially started from her garage until outgrowing the space and moving to a commercial property.
Hannah has an extensive list of credentials as a renowned groomer having won awards in both grooming and obedience competitions with her beloved Poodles, Ivy and Raven.
Reviewed 5 months ago
This course was easy to follow and I loved the information provided. The assessments were well planned out and were questions that related to the course information read well! This course provided me with a lot of necessary information and I loved it!
Reviewed 5 months ago
"I truly enjoyed this course" all the information provided were fantastic and the instructors were wonderful and knowledgeable.
Reviewed 5 months ago
You provide best service to his students and tutor hannah is very kind and helpful
Reviewed 5 months ago
This course is quite useful for the development of my new career. I received a lot of helpful knowledge of dog grooming. I definitely will recommend my friends to study this course if they are interested in Pet grooming. Appreciate for Hannah Grice.
Reviewed 5 months ago
Great corse, easy to understand and I like that there is no time limit to complete the corse.
Reviewed 5 months ago
thanks and it was good and useful for my business.
Reviewed 6 months ago
Was very happy with the course. Very informative and I have felt I learnt a lot. All of the information provided was easy to read and understand.
Reviewed 6 months ago
This course was very easy to understand and gave me all the basic tools I needed to become a dog groomer.
Course Details
Learn
Easy to navigate, step by step learning led by industry experts. Enjoy one-on-one tutor support with the flexibility of no time limits.
Duration
On average, successful students take 6-8 months to complete this course
Benefits
Industry approved qualification
100% online
Self paced with no deadlines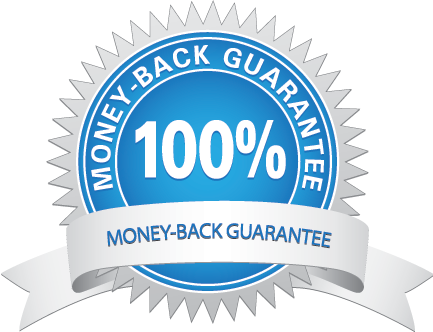 Pay Upfront
Best value option
7 day money back
Lifetime access
BUY NOW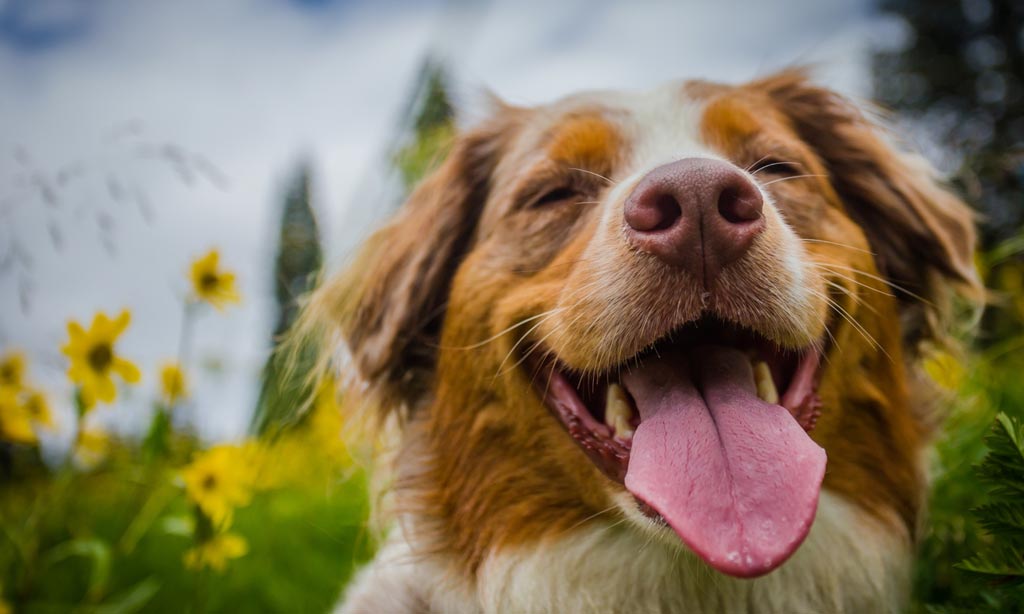 By submitting this enquiry, I agree to receiving emails from Pet Courses regarding courses that may be of interest to me and I accept the privacy policy. I can unsubscribe at any time.
Get your FREE course info pack
Learn more about:
Course topics
Study method
Our student stories
Payment options