Learn How Alyson Followed Her Dream And Became A Professional Dog Groomer
Meet Alyson Bratt
Owner of Scrub Woofers Dog Grooming
Owning two Labradoodles and a Cavoodle inspired Alyson to study dog grooming. In this interview Alyson shares her journey from a complete beginner to opening her own dog grooming salon.
Alyson, what made you choose to study dog grooming?
I had always thought about dog grooming as a career and the possibility of working in a grooming salon. Owning two Labradoodles and a Cavoodle was what made me want to get started, just so that I could learn more about grooming them.
While studying, did you get some practical experience?
I organised a few days at a grooming salon as a bather/dryer and also did a couple of days at a vets in their grooming room. I also went out with a mobile groomer to see if I liked that, but discovered that mobile grooming wasn't going to be for me. That's when I realised that if I had my own grooming salon I could do things differently to what I had seen in other salons I had visited.
What was it like starting your own salon?
After completing the Dog Grooming Bundle (Business Builder) I opened my own salon called Scrub Woofers. I was so nervous that I wouldn't get any clients. I had two other part time jobs, so for the first two weeks I did grooms around them, but it got really busy in my salon so quickly that I had to give those jobs up because I was running out of space for my clients! In the first few weeks I learnt a lot. My confidence really grew, doing breed specific trims and getting faster. It was such a great start, I even ended up with tips from happy customers.
Have you experienced any difficult grooms?
Oh yes! I groomed a very large Labroodle, 7 years old and had never been to a groomer. The owners shave him sometimes, but he was full of knots, prickle things, twigs, dirt and had nails so long they were curling out sideways so he was having trouble walking. He had huge knots of dirt between his toes yikes, and was my first groom outside of my own dogs!
That day I definitely learnt a few things. Instead of bathing and drying first, I should have shaved him first and then bathed and dried. I also realised I needed bigger nail clippers and a back up pair of clippers for when mine decide to stop working half way (which they did of course!) This was also when I decided it was well worth investing in a Hydro bath. He was definietly a learning curve, but the important part was that I got there in then end and I learnt a lot.
Thank you for sharing your story with us Alyson.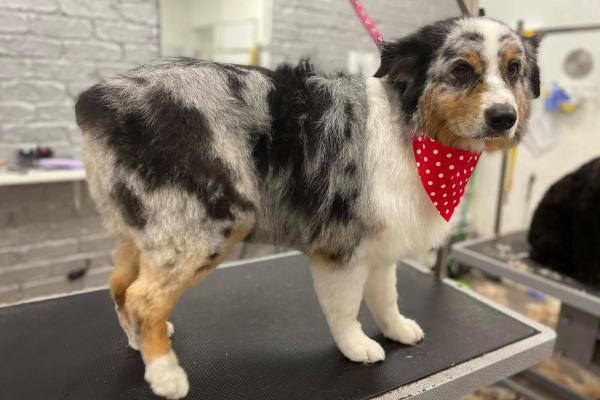 Course Benefits
Study online with no time limits.
Really affordable prices starting from just $25 per week.
Bundle includes 3 top selling courses, saving you hundreds.
One-on-one guidance from a professional groomer.
Includes video tutorials, interactive lessons and printable resources.
Practical experience gives you vital hands on experience with a variety of dog breeds.
Are you inspired by Alyson's journey? Become a professional dog groomer in under a year by enrolling with Pet Courses today!
Complete the form to get your free course guide
By submitting this enquiry, I agree to receiving emails from Pet Courses regarding courses that may be of interest to me and I accept the privacy policy. I can unsubscribe at any time.