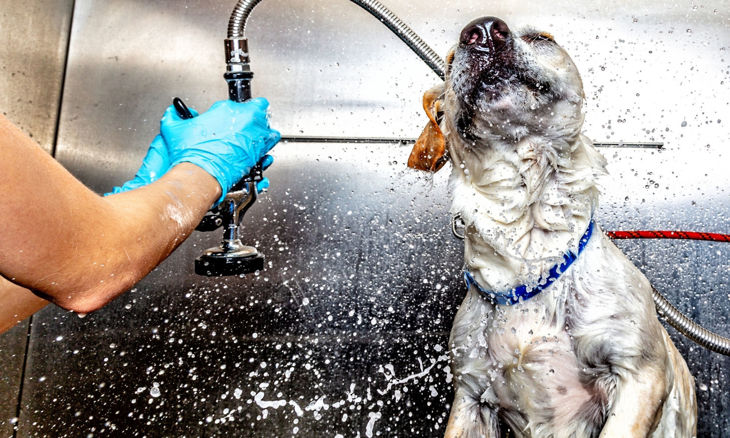 Professional Dog Grooming Diploma
Professional Dog Grooming Diploma.
100% online, self paced learning.
Approx. 6 months (part time)
Top-Rated Dog Grooming Course
Are you a dog lover who dreams of a career as a professional dog groomer? This top-rated dog grooming course has been specifically designed by our team of expert dog groomers to take you from complete beginner to professional dog groomer, all from the comfort of your own home.
In just a few short months, you could be joining this thriving industry and launching your own successful dog grooming business.
As one of the most comprehensive online dog grooming courses, you'll learn how to safely and expertly groom dogs of all breed and coat types. Completing digestible interactive lessons, video tutorials and assessments, you'll learn everything from bathing, clipping and scissoring to breed specific styling.
This dog grooming course includes two bonus modules dedicated to setting up and marketing your business, including downloadable resources and templates. It's fair to say that we leave no stone unturned in this online dog grooming course.
If you're looking for some inspiration, check out our Student Stories, including how Jodi converted her garage into a Balinese style grooming space!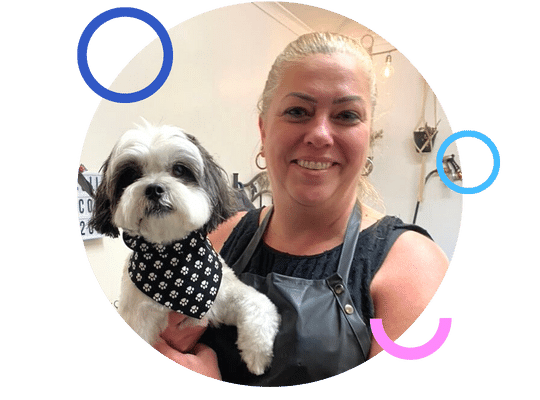 I love dogs and always wanted to be a groomer!

"I started out by grooming friends and families dogs and now have my own beautiful grooming salon at home."
Topics
This course includes 12 interactive modules, carefully designed to teach you how to become a confident, professional dog groomer.
Career options - mobile dog grooming, working from home, salons and franchising
Combs and brushes
Shedding aids
Clippers, blades and guard combs
Nails and teeth
Shampoos, conditioners and deodorants
Grooming tables
Hydrobaths and bathing equipment
The ANKC breed groups
Dog training - the alpha theory and positive dog training
Canine communication and calming signals
Dealing with an aggressive or fearful dog
Canine body language
Essential canine first aid
Canine anatomy
Handling fleas, ticks, mites and ringworm
Managing roundworm, tapeworm and heartworm
Important canine disease awareness
Bacterial and viral infections
Skin disorders
Essential health check
A visual assessment
Checking for pain
Skin and coat inspection
Eyes and ears
Checking dogs teeth
Nail maintenance
Prepare corded, double, silky, smooth, wire and wool coats for the bath
Hygiene and care procedures
Nail clipping
Teeth cleaning
Pad trimming
Ear plucking and cleansing
Owner expectations and needs
Styling to match the breed
Coat type and behaviour
Accentuate the dogs natural look
Understanding dog shape
Styling mixed breed dogs
Drying methods - blasting, stretch, fluff and smooth drying techniques
Styling spherical head shapes such as the Bichon Frise, Dandie Dinmont, Shih Tzu and West Highland Terrier
Eyebrows and beards
Long and short legged Terriers
Topknots
Scissoring skills and safety
Styling with feathering, stretch drying and fluff drying
Tail shape
Clipping and when to clip
Grooming puppies
Hand stripping and plucking
Carding
Creating the style - blending, feet, legs, body, ears, head, muzzle and throat
Elaborate styling
Fluff drying
The Poodle pet clip
Styling poodle cross breeds - Cavoodles, Groodles
Grooming the short haired Terrier
Airedale
Australian
Silky Australian
Bedlington
Border
Cairn
Dandie Dinmont
Irish
Kerry Blue
Norfolk and Norwich
Parsons Russell
Scottish
Soft-coated Wheaten
West Highland
Yorkshire
Schnauzer
Drop coat breeds
Natural coat toy breeds
Retrievers medium to long haired
Styling setters and spaniels
Wirehaired breeds
Grooming long and thick coats
Hound grooming
Telephone skills
Converting customers
Communication ABC's
How to create a customer base
Dealing with difficult customers
Choosing the right business
Customer contracts
Appointment cards
The importance of diary management
Personal software packages
Setting up your finances
Setting prices, taking payment and accounting
Health and safety
Insurance cover
Creating your customer experience
Choosing your business name
Creating your business plan
Carry out market research
Online marketing - social media, websites and blogging
Service related marketing
Professional development
Equipment checklist
Blade size chart
Printable five freedoms chart
Printable canine disease reference chart
Dog health assessment template
Business plan template
Income projection template
Course Mentor

Hannah Grice
Owner and head groomer of 'The Dog House'
Hannah Grice is the owner and head groomer of her own boutique grooming business, The Dog House, which she initially started from her garage until outgrowing the space and moving to a commercial property.
Hannah has an extensive list of credentials as a renowned groomer having won awards in both grooming and obedience competitions with her beloved Poodles, Ivy and Raven.
Hannah will guide you through your course step-by-step via online self-paced lessons and activities. In her video tutorials, which she presents from her own salon, you'll be shown the correct technique and styling tips across a variety of breed groups. Our popular 'At Home With Lisa' video series will also give you a behind the scenes look at how a professional dog groomer runs their salon. In this series Lisa talks you through the tools and equipment that she uses, giving you suggestions on where to purchase as well as tips for starting out in your new business.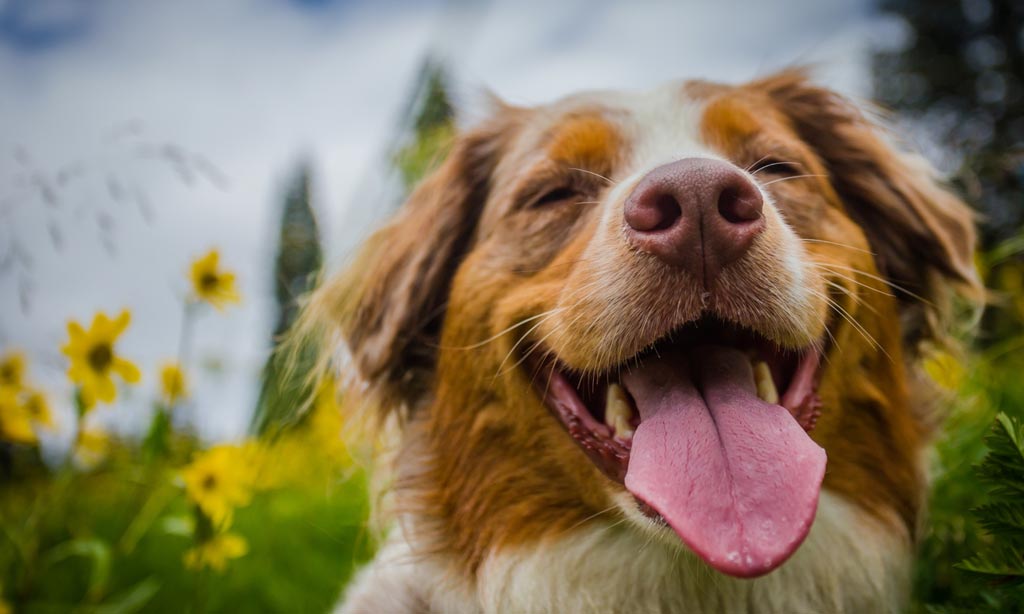 By submitting this enquiry, I agree to receiving emails from Pet Courses regarding courses that may be of interest to me and I accept the privacy policy. I can unsubscribe at any time.
Get your FREE course info pack
Learn more about:
Course topics
Study method
Our student stories
Payment options
Frequently Asked Questions
Quickly find out answers to our most common questions.
The average is 6 months studying part time for a few hours a week.
We recognise that everyone's schedule varies, that's why you set the deadlines and not us. You'll receive unlimited lifetime access to the course so you can take as much time as you need to practice and complete your assessments.
Yes there are practical tasks for you to complete at your own pace.
Don't worry you won't need to find a work placement, you can simply practice on your own or friends dogs all at your own leisure. You don't need to organise any of this before enrolling.
On your own dogs
Asking friends and families to groom their dogs
Advertising for free models (online e.g Facebook)
Volunteering at local animal shelters
Organising to shadow a local groomer
Read Sandi's story to see how she secured practical experience or Learn more about how the practical works >
Dog grooming is an unregulated industry with no government mandated certificate that 'qualifies' you.
Whilst you may not need a formal certificate to work as a groomer, we believe that it's vital that anyone selling their services as a groomer be professionally trained. Our dog grooming courses have been developed by a professional grooming educator who ran her own salon for many years. All courses are mentored by a practicing dog groomer, enabling us to deliver both current and professional guidance throughout your learning journey.
We include resources that will help you build your business after graduating;
Blade Size Chart
Equipment Checklist
Five Freedoms Poster
Muscle Groups Poster
Canine Disease Chart
Dog Health Assessment Template
Income Projection Template
Business Plan Template
Yes!
Upon successful completion of your assessments you'll receive separate Certificates for each course you complete.
There is no obligation to purchase any equipment in order to complete the course.
The course includes practical tasks to be completed on your own or friends dogs. They are optional and can be completed at your own pace, so there is no commitment to purchase anything if you choose not to. To complete them you will only require a basic grooming kit.
We don't recommend buying anything before enrolling as the first module covers equipment and tools in detail. You'll start thinking about what you might want to invest in dependant on the type of business you are planning (if that's what you're planning). You'll watch videos from Lisa who runs a home grooming salon, she'll show you all of her tools and equipment and talk you through what she finds helpful and also where she purchased it all. You'll also be able to download an equipment checklist at the end of the module.
Pet Courses students receive a discount with online retailer Clipper World as well.
Absolutely not!
We appreciate that learning online can be daunting for some. Our student focused approach means that you're never far away from feeling supported, whether that be from your mentor, our friendly support staff or your fellow students.
After enrolling you'll be invited to join our students only private Facebook group. You'll find this group will play an active role in your studies. Not only will you have like-minded people to learn alongside, but you'll feel motivated and inspired as you share your learning journey with us.
No scary exams!
As you work through the modules you'll complete multiple choice questions that will help you recap each lesson. These can be re-taken as many times as you need. There are no scary exams to complete, instead you'll answer short answers questions with feedback provided by your course mentor.
Yes, it's just $25 a week.
You can pay your course off in affordable weekly payments of just $25. If you prefer to pay fortnightly or monthly, just let us know and we can organise a custom plan for you.
Our payment plans are interest free and there are no credit checks!
Success Stories
When you study with Pet Courses, you're never alone. You'll be joining an exclusive learning community that connects you with other students to share your learning journey. Ask questions, seek advice or simply be motivated by others stories as you study your animal care course with us.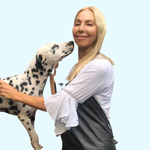 Julie Bezemer
Owner Julie Bezemer Puppy Waves
Julie's business started out by just word of mouth, with people stopping to ask who groomed her dogs. Before long she had dozens of regular clients and now happily works 2 days a week in her own salon.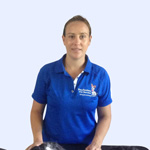 Nicole Scott
Owner Pawfection Pet Services
Nicole wanted a business that would fit around her new family that she could do from home. She had always loved dogs and dreamed of a career where she could work with them every day.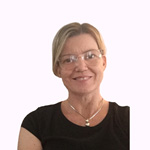 Sandi Ferguson
Owner Fergie's Dog Grooming
While studying, Sandi decided to post in her local dog park Facebook group to offer half price grooms so that she could get some models to practice on. She ended up being inundated with clients and after only a few weeks was able to charge full price.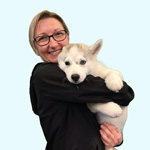 Amanda Toohey
Employed Groomer
Amanda used to go and watch her friend groom dogs which inspired her to study dog grooming. She helped out at her friends salon, shaving dogs pads and trimming nails and managed to secure a job at a local grooming and day care facility. Amanda has since set up her own part time business as well.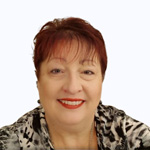 Lisa Grant
Owner Lisa's House of Dogs
After 35 years in insurance, Lisa decided to follow her dreams and start her own dog grooming business. After graduating, she converted a spare bedroom into a salon and embarked on an exciting new chapter in her life. She hasn't looked back since!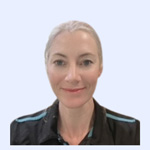 Alyson Bratt
Owner Scrub Woofers Dog Grooming
After graduating, Alyson nervously opened her salon. She was worried she wouldn't have enough clients so kept her two part time jobs going. After just 2 weeks she quit her part time jobs because she was running out of appointments for her clients!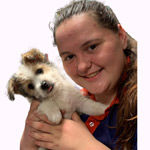 Brooklyn Turner
Owner Head Turners Sudz-n-Scissors
Having always loved dogs, Brooklyn dreamed of a career as a dog groomer. Whilst studying for year 12, she completed her Dog Grooming Diploma and set up a small salon from her parents home. She has since gone on to specialise in Asian fusion and teddy bear styles having achieved so much at such a young age.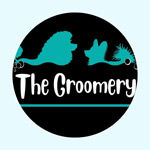 Brigitte Meissner
Owner of The Groomery
Having a background in dog behaviour and training, embarking on a career in dog grooming was a perfect match for Brigitte. After pestering everyone she knew with a dog to gain experience, Brigitte opened a small home salon. Following it's success, she is now in the process of expanding into an upmarket boarding facility as well.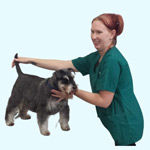 Sharon McQuillan
Employed dog groomer
As a vet nurse, dog grooming complimented Sharons career really well and offerred her a back up career to earn extra money. Sharon now operates a grooming business 1-2 days a week out of a local pet shop, giving her great variety in her working week.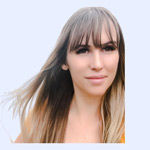 Kelly Wright
Owner of Groomed by Kelly
Dog grooming was a career that Kelly always wanted to pursue. While studying she practiced on friends and families dogs, setting up her mobile dog wash and grooming business before she even graduated. Initially starting out part time, she got so busy that she now operates full time.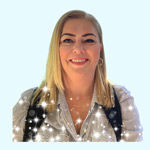 Jodi Gooding
Owner Transfurmations Grooming
Having always loved dogs, grooming was the perfect career for Jodi. She started out by creating a balinese style hut in her garage. After doing letter drops and grooming friends and families dogs, her business has now expanded to work out of a beautiful renovated home salon.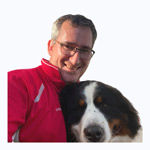 Kurtis Doyle
Owner of Bubbles & Bones Pet Grooming
After suffering some medical issues, Kurtis needed a new career that offered him more flexibility. He had the opportunity to purchase an established mobile business, so while studying he shadowed the previous owner, and was then ready to hit the ground running in his new mobile trailer.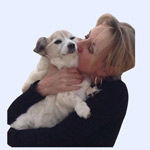 Jayne Shilcof
Employed groomer at Holistic Touch
Having fostered and adopted many animals, Jayne felt in her happy place surrounded by dogs. She took the plunge by enrolling to study dog grooming, finally following her passion. Now working alongside a friend and specialising in dogs with special needs, her only regret is that at 61 she wishes she had done it sooner!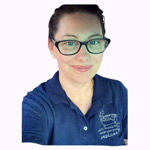 Mellissa James
Owner Mells Poochie Pampers
As a mobile dog washer, Mel was receiving so many customers asking her to groom that she decided to upskill, completing her Dog Grooming Diploma. Now 6 months on she is loving her job and looking forward to establishing a home based salon in the near future.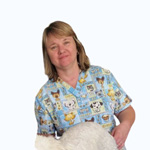 Leanne White
Home Groomer
Leanne was frustrated when her beloved elderly Poodle was refused grooming. So she took it upon herself to learn. She now enjoys helping others out as her new found hobby.
Reviewed 4 months ago
Loved the course Just some of the assessment questions were a little hard to understand what they were trying to ask and how to complete them so they took a little longer.
Reviewed 4 months ago
Excellent course, very good details
Reviewed 4 months ago
A great course providing helpful theory and practical tasks to prepare a prospective groomer for the industry.
Reviewed 5 months ago
I was very happy with this course. If I had questions, I got quick answers. It is great that I can download the informations. The videos were very helpful and felt like a practical units. Easier translation options would be great. I fluently speak German.
Reviewed 6 months ago
excellent course, valuable information and set up in a way that anyone can learn from
Reviewed 7 months ago
I absolutely loved this diploma course. I think the industry should be regulated as there is so much more to know than just how to groom a dog. I will send an email as there is more I would like to say about this course. Its fantastic.
Reviewed 7 months ago
Good introductory course, provides a high level overview of a good range of topics. I liked the multiple choice questions at the end of each module.
Reviewed 7 months ago
I found this course covered so much more information than I expected which is great! I felt like I have learnt a lot and it will so helpful in the future. The final assessment was a great way of going over all the information one more.
Course Details
Learn
Easy to navigate, step by step learning led by industry experts. Enjoy one-on-one tutor support with the flexibility of no time limits.
Duration
On average, successful students take 6-8 months to complete this course
Benefits
Industry approved qualification
100% online
Self paced with no deadlines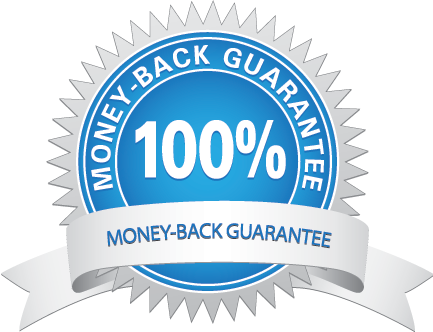 Pay Upfront
Best value option
5 day money back
Lifetime access
BUY NOW
Pet Courses Promise
We always work in the best interests of our customers and students. Our Money Back Guarantee offers you peace of mind and reassurance that we will be the right fit for you.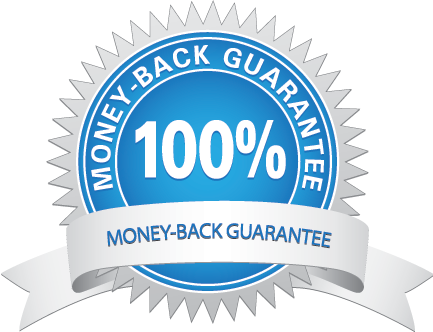 5 Day Money Back Guarantee On All Courses
We know you'll love studying with us, but if for any reason you're not 100% happy, just contact us within 5 days of enrolling to receive a full refund.
Join Our Pet Courses Community
We are confident that you'll love studying with us, just as hundreds of students before you have! You only need take a look at our Student Stories to see what you could achieve!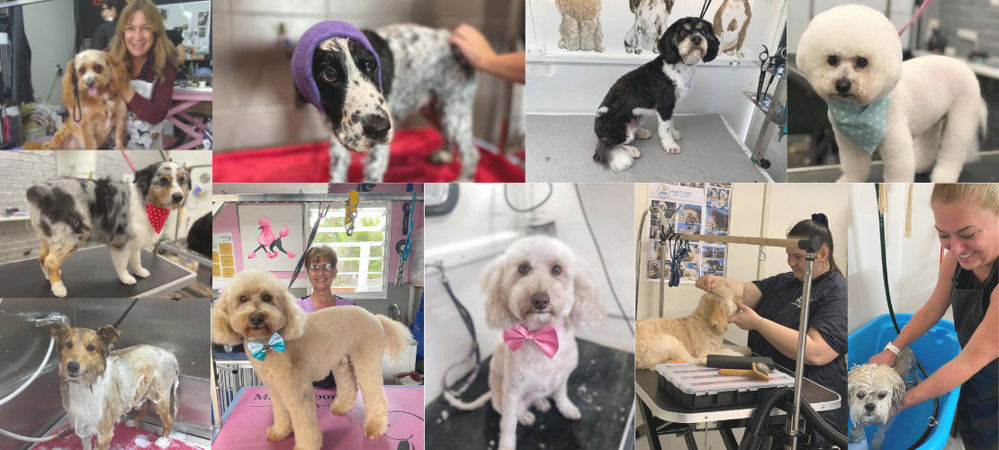 Industry Facts
In a national study of pet ownership, Animal Medicines Australia (AMA) found that dogs continue to be Australia's most popular pet, with just over 5 million dogs accross the nation. Self-reported expenditure on pet-related products and services in Australia is now estimated at more than $13 billion a year, up from $12 billion in 2016 with over $700 million spent on pet grooming services.
The average dog-owning household spends an estimated $2,158 a year on their dogs, including $586 on food and $470 on veterinary services. The average yearly spend on pet grooming is up to $154, totalling an estimated $710 million in 2019.
As a dog groomer, your tasks will involve bathing, cutting, combing, blow drying and styling pets coats. Dogs will also require their nails to be clipped and ears to be cleaned. You will need to understand customer needs, providing good quality service and be able to measure your customer satisfaction. Active listening, critical thinking and problem solving are all key skills required as a dog groomer.
The Australian department of employment predicts a strong growth in the pet grooming industry over the next 5 years. The ABS Labour Force Survey identifies that there are 4,100 workers in the pet grooming industry in Australia with 35% working full time hours of 35 hours per week or more. According to the Australian Government Job Outlook, the average age of pet groomers in Australia is 40 years with 85% of workers being female.
Source: Australian Government job Outlook; Animal Medicines Australia Pet Survey Report 2019 (AMA)