Specialists in Dog Grooming Courses &
Animal Care
Turn your passion into a rewarding job working with animals.
Top selling dog grooming courses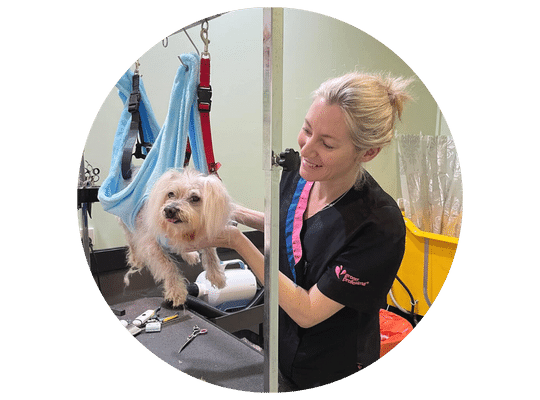 I wouldn't have done it without this dog grooming course!

"I opened my salon a week after completing the dog grooming course. Clients booked in straight away and I've already groomed breeds I've never done before and they've been awesome."
Australian Owned #1 Dog Grooming Course
Pet Courses is proudly Australian owned with all of our courses innovated in-house by a team of industry experts. Our students join us from all across the Australasian region, both in Australia and New Zealand. Our #1 dog grooming course has allowed hundreds of students to take their first step into a rewarding career as a professional dog groomer.
Enrol online
Pay upfront or weekly using our interest free payment plan option.
Send logins
Instantly receive your welcome email and course login details.
Get started
Login from any device and join our 24/7 learning community.
Pursue your passion
Gain expert guidance from long time industry professionals.
Reviewed 4 months ago
Loved the course Just some of the assessment questions were a little hard to understand what they were trying to ask and how to complete them so they took a little longer.
Reviewed 4 months ago
Excellent course, very good details
Reviewed 4 months ago
A great course providing helpful theory and practical tasks to prepare a prospective groomer for the industry.
Reviewed 5 months ago
I was very happy with this course. If I had questions, I got quick answers. It is great that I can download the informations. The videos were very helpful and felt like a practical units. Easier translation options would be great. I fluently speak German.
Reviewed 6 months ago
excellent course, valuable information and set up in a way that anyone can learn from
Reviewed 7 months ago
I absolutely loved this diploma course. I think the industry should be regulated as there is so much more to know than just how to groom a dog. I will send an email as there is more I would like to say about this course. Its fantastic.
Reviewed 7 months ago
Good introductory course, provides a high level overview of a good range of topics. I liked the multiple choice questions at the end of each module.
Reviewed 7 months ago
I found this course covered so much more information than I expected which is great! I felt like I have learnt a lot and it will so helpful in the future. The final assessment was a great way of going over all the information one more.